Sierra de las Nieves
It is difficult to find another place so rich in flora and fauna as in the case of the Sierra de la Nieves. In 1989 it was declared National Park and, as if in a beauty competition, it strove for recognition until UNESCO granted the international title of Reserva de la Bioesfera (Biosphere's Reserve).

Only a few people have reached this place, running away from noise, traffic, stress and endless other reasons, to delight themselves in this big calm. In this adventure through the Sierra de las Nieves you can observe how the vegetation does change. Bushes like thyme or rosemary will first welcome you and will then be substituted in zones like the Torrecilla or in the Quejigales by trees like the cork –and gall oak, junipers, chestnuts or strawberry trees are only a small sample of the big botanical population that is spread over the 90,000 hectares of the Biosphere's Reserve. In its deepest bowels different species have been able to survive, like the mongoose, genet, fox or the chamois.
In the middle of the 19th century less than 20 specimens of the just mentioned chamois lived in this zone. For this reason and in order to save the specie, 22,000 hectares were declared in 1972 Reserva Nacional de Caza (National Reserve of Hunting).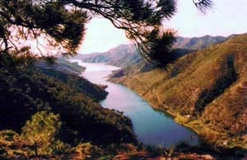 In the chamois stands for the fauna of the Sierra de las Nieves, then the Spanish fir stands for its vegetation. Boisser, a Swiss citizen, discovered this capricious tree from the ice age in the 19th century. It has to fight a continuous struggle for survival: this specie occupies now a total surface of 2,500 hectares, of these however 2,000 are part of these mountains. Though after artificial reforestation the vastest forests are the pinewoods. The most distinguished tree, with 1,000 years of antiquity, is the Castaño Santo (Saint Chestnut). It has a trunk with a diameter of five metres and a height of 30 metres. In the past it was used as a chapel to celebrate worships with hundreds of people, amongst others the Catholic Monarchs Ferdinand and Isabella. The Castaño Santo grows in the Sierra Real de Istán. Here we find the source of the water that supplies the occidental coast, the Rio Verde. Clear water with different river fishes, like the barbell, which is chased by otters. This clearly proves the purity of this running water. The ponds, backwaters and waterfalls are over flown by blackbirds or kingfishers. These are watched over from high up in the sky by birds of prey, like the sparrow hawk or the hoshawk that are relieved at dusk by different kinds of owls.
Malaga Natural Parks Information