Seville port
The port is located in the southwestern part of Spain on the Guadalquivir River, 80 km from the Atlantic Ocean.
Location
Longitude: 6º 0' W (Greenwich)
Latitude: 37º 22' N
The 80 km-long river channel to the port is 6.5 m deep and has a sandy bed.
The port entrance features a lock of the following dimensions:
Length: 200 m with gates closed and unlimited with gates open.
Width: 24.36 m
Depth: 8 m
Air draught: 42 m
A dredging project is currently underway for the construction of a new lock with the following characteristics:
Length: 250 m with inner gates closed
Width: 40 m
Depth: 8 m
Wind Conditions
Bar: prevailing and dominant ESE
Port: prevailing and dominant SW
The port is not affected by tides. General description of the cruise terminal The cruise terminal is situated in the old historical part of Seville city centre.
A new one is now being built as part of a port and city renovation project to convert the old dockside into a recreational complex, consisting of a marina, a shopping centre and a park.
Delicias Quay
Berthing 618 m 300 m
Currently under construction: aquarium
(7500 m2), public areas and parking
(2400 m2), two restaurants and 2
kiosks (1400 m2)
North Tablada Quay
Depth 7.5 m 7.5 m
Port services:
24-hour service
Bunkering
Pilotage (compulsory)
Ship repairs
Supplies
Tugs
Water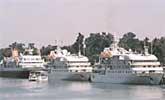 Seville Port Authority
Avda. de Moliní, 6. 41012 Sevilla
Tel +34-954 247 317
Fax +34-954 247 333
www.apsevilla.com
comercial@apsevilla.com
Seville Communications