Club Golf Playa Serena
Five kilometres from the resorts at Roquetas del Mar, this 18-hole course is situated between a gorgeous pristine beach and 9 lakes, 7 of which are natural.

The scenery is magnificent, set as it is parallel to the Mediterranean Sea. It is mainly flat with small, sloping greens protected by bunkers and water obstacles. Skill and precision are required, and the wind, blowing both from east and west, is an added challenge on this course.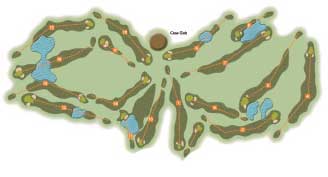 Club Golf Playa Serena
Urb. Playa Serena
04738-ROQUETAS DE MAR-Almería
Tel. 950 333 055
Fax. 950 333 055
E-mail: secretario@golfplayaserena.com
Almeria golf information