Province of Granada
Surface area: 12.531 Km2
Population: 821.660
City of Granada:
Surface area: 88 Km2
Population: 237.929
Information
Welcome to this guide of Granada offered by Andaluciacar.com. We have included a full list of information about Granada. Moreover, this website has information about other cities of the province of Andalucia and Costa del Sol. Navigate from one city to other using the menu at the right of this website.
If you are new here you will see that Andaluciacar.com incorporates an easy navigation method using a top menu containing the most important areas. Any different section will be split into other sections any time you click on them. These submenus appear at the end of the pages as you can see at the end of this page.
There are many different areas in this website about this city and the best places to visit as well as we will give you some information about renting a car and the best rates.
Granada from my point of view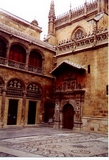 Granada is the capital city of the Province of Granada and old capital city of the medieval Kingdom of Granada. Its population is 237.929 habitants and 472.638 in the metropolitan area.
It is located next to the Sierra Nevada Mountains in Andalusia in the south of Spain. It is about 70km from the coast. Being in this position means that it is possible to go skiing and sunbathe on the beach in the same day.
In January there are lots of blue skies and it is warm when the sun is shining but it gets cold at night. There are occasional frosts. The best time to visit Granada is in the spring and autumn when the temperature is just perfect with warm sunny days. During July and August it can be very hot and some days the temperature reaches 40C. Granada has a dry heat which is much more bearable than the humid heat which you will find in Barcelona. There is very little rainfall although every few years there are spells when it rains very heavily.
The most important place to visit in Granada is the the Alhambra. It is a Moorish citadel and palace and it is one of the most famous items of the Muslim, Jewish, and Christian historical legacy that makes Granada a hot spot among cultural and tourist cities in Spain. The Almohad urbanism with some fine examples of Moorish and Morisco constructions is preserved at the part of the city called the Albaicin. You can appreciate the splendour of this fascinating building at the following image.

The Alhambra is considered by some to be one of the 10 wonders of the world. It is a massive castle constructed over many centuries. It consists of gardens, fortifications and sumptuous palaces.
Granada is also well-known within Spain due to the prestigious University of Granada and, nowadays, vibrant night-life. In fact, it is said that it is one of the three best cities for college students.
The following list of important information can be very usefull when staying at Granada. It includes info about guided tours, consulates and any important telephone number that you must know before visiting Granada.
Tourist Information
Corral del Carbón
Tel: 958 221 022 and 958 225 990.
Plaza Mariana Pineda, 10
Tel: 958 247 128.
Alhambra Real de la Alhambra
(next to the ticket offices).
Tel: 958 229 575.
Avenida de Andalucía.
Tel: 958 279 398.
Entrance from the dual carriageway, exit 130, towards la Chana.
Heritage Interpretation Centres
Albaicín Interpretation Centre
Palace of Dar al Horra. Sat. 10am–2pm.
Free educational tours through the Albaicín by appointment.
Tel: 651 862 249.
Sacromonte Interpretation Centre
Barranco de los negros (next to la Chumbera).
Ethnographic museum, botanical gardens, exhibition room
Tel: 958 215 120.
Guided Tours
Cicerone: daily departure with no prior booking. Tour of the historical centre.
Meeting point: Plaza del Carmen, by the Town Hall. Time: 10.30 am (from April to October).
Types of admission: general and free for children under the age of 12. Tel: 670 541 669.
Other Telephone Numbers of Interest
Granada Airport (GRX)
Federico Garcia Lorca Granada-Jaen
Tel: 958 245 200
Granada airport guide
Granada Airlines
Current Granada airport airlines listing
Bus Station
Carretera de Jaén, 18013, Granada
Tel: 958 185 480.
Train Station (RENFE)
Tel: 902 240 202
Granada trains timetables and contact information.
Tele–taxi
Tel: 958 280 654
Sierra Nevada ski resort information
Managed by CETURSA.
Tel: 958 249 119
Latest Sierra Nevada tourist information.
Granada Bus Station
Tel: 958 185 480
More information about buses in Granada.
Federación de Empresarios de Hostelería y Turismo
Tourism and Hotel and Catering Trade Employers Federation.
Tel: 958 126 390
Asociación de guías e informadores turísticos de Granada
Granada Association of Tourist Guides and Tourist Information Workers.
Tel: 958 229 936
Asociación de intérpretes del Patrimonio Cultural
Association of Cultural Heritage Interpreters.
Tel: 958 152 814 and 666 396 105
Festival Internacional de Música y Danza de Granada
Granada International Music and Dance Festival.
Direccion: Cárcel Baja, 19 - 18013 Granada.
Tel: 958 221 894
More at the Granada festivals page.
University of Granada
Tel: 958 243 000
See further information about Granada University
Legado Andalusí
Legacy of Al–Andalus
Tel: 902 195 195 and 958 225 995
Palacio de Exposiciones y Congresos
Congress Centre
Tel: 958 246 700
Tele–Ruta
National road traffic information
Tel: 915 352 222
Important Telephone Numbers
National Police
Tel: 091
Local Police
Tel: 092
Guardia Civil
Tel: 062
Fire Brigade
Tel: 080
Traffic information
Tel: 900 123 505
Special Emergency Services
Tel: 958 282 000
Cruz Roja (Red Cross)
Tel: 958 222 222
Consulates
Belgium
Recogidas 66, 1 A.
Tel: 958 251 631.
France
Carlos Pareja 5.
Tel: 958 261 447.
Mon. to Fri. 9am–2pm and 5pm–9pm.
Italy
Dr. Martín Lagos 3, 1º C.
Tel: 958 261 361.
Mon. to Fri. 10am–1pm.

Sweden
Canadá 27, (Huétor Vega).
Tel: 958 500 487.
Mon. to Fri. 10am–1pm.

United Kingdom
Plaza de San Cristóbal 3.
Tel: 958 274 724.
Granada Spain information