Malaga Trekking
The geography of Malaga can offer us different possibilities out of the sea. If we go to the mountains, we can find kilometres and kilometres of different routes for trekking with great vegetation. You have many options!
On one side, ascents of mountainous places of a medium level which would take all the day and that have to be prepared with precaution, as the ascent to Maroma, the Axarquía Mountain or Navalchica in Nerja. If we are looking for something more relaxing and beautiful at the same time, the refreshing route of the river Chillar in Nerja is the best one. This route goes along the river course in a bucolic landscapes full of small waterfalls and pools.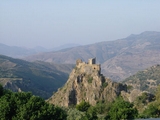 Who look for stronger emotions should direct to the Sima del Diablo, in the Genal Valley, a place full of waterfalls and pools where you can practise jumps and rappels. Other route very recommended for the adventurers is the Buitreras Canyon; however you have to prepare it very carefully and with knowledge of climbing. And for those who look for getting inside the rock core, there are several caves such as the Gato or the Pileta waiting for those who are keen on spelunking. If we climb more, above the surface, we arrive to the blue sky of the Abdalajis Valley and of the Calamorro mountains in Benalmadena.
Exploring Malaga