Tivoli World Benalmadena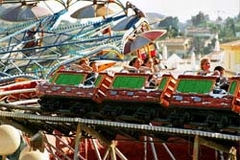 Youngsters, senior, citizens, children… there's something for all of them at the Costa del Sol's premier amusement park: Tivoli World.
A gravity-defying, 28 metre Big Wheel and the predictable Grasshopper await us, not forgetting the chance to enjoy a freefall of 60 metres. Rides of more nostalgic nature can be found in Tivolandia, where the wooden horses of the merry-go-round will evoke memories of our childhood. The best way to get around the whole park in comfort is to take the Choo Choo train, a very different locomotive to the one on display here at Tivoli World which, paradoxically, is a miniature model of the largest train in Southern Europe. Even this, however, pales into insignificance alongside the life-size reconstructed dinosaurs to be found in the Jurassic Adventure section.
The Wild West Square will take us back in time with the most daring of can-can and country and western shows, interspersed with magic, juggling and all manner of children's sideshows. The spirit of Andalusia is also represented in the shape of Andalusian Square, where regional dancing, flamenco and other classical Spanish dance can be enjoyed.

The most outstanding show featuring some of the best known Spanish artistes on the international circuits take place at the Amphitheatre, the great stage that all celebrities long to tread. Comedy, music, dancing, theatre and infinite number of options are on offer at this hypermarket of fun known as Tivoli World. More than 25 years of welcoming visitors on the Costa del Sol bear witness to this.
Tivoli World
Address: Avda de Tivoli s/n.
Arroyo de la miel. Benalmadena
Open every Sunday from 11 – 18h
Summer Season: Open daily from 18 – 02h.
Malaga Theme parks Information